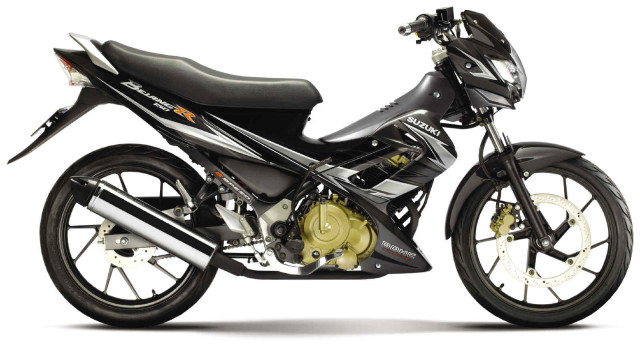 vs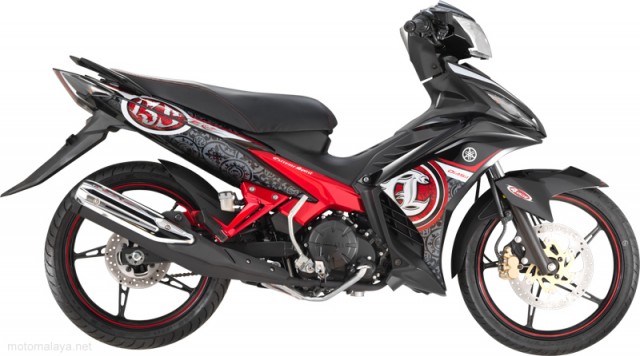 | | | |
| --- | --- | --- |
| Model / Comparison | Suzuki Belang R150 | 2011 Yamaha 135LC 5-speed |
| Bore x stroke | 62.0 x 48.8 mm | 54.0 x 58.7 mm |
| Displacement | 147 cc | 134.4 cc |
| Cam system | DOHC 4-valve with PAIR system, air-cooled | SOHC 4-valve, liquid-cooled |
| CDI | DC-CDI with 3 pre-programmed mappings | DC-CDI with single mapping |
| Power (kW) | 12.65 kW at 9500RPM | 9.2 kW at 8500RPM |
Torque (Nm)
unknown
12 N.m/6000 rpm
Transmission
6-speed (1-N-2-3-4-5-6)

motomalaya.net

5-speed (1-N-2-3-4-5)

motomalaya.net

Cylinder tech
SCEM (Suzuki Composite Electrochemical Composite)
DiASil (die-cast Silicon Aluminium alloy)
Carburetor
Mikuni BS26SS

motomalaya.net

Mikuni BS25

motomalaya.net

Comp. Ratio
10.2:1

motomalaya.net

10.9:1

motomalaya.net

Fuel tank capacity
4.9 l

motomalaya.net

4.0 l

motomalaya.net

Engine oil capacity
Without filter change – 1,000ml
With filter change – 1,100ml
1.0 l

motomalaya.net

Front Suspension
Telescopic
Telescopic
Rear Suspension
Monocross

motomalaya.net

Monocross

motomalaya.net

Top speed (not official)
140km/h (equivalent to 2010 Yamaha 135LC 4-speed at 180km/h)
not known yet
Front / Rear Brake System
2-piston caliper 3oomm disc brake / 1-piston caliper disc brake
2-piston caliper 267mm disc brake / 1-piston caliper disc brake
Weight
108kg

motomalaya.net

110kg

motomalaya.net

Fun factor
5 star

motomalaya.net

5 star

motomalaya.net

Famously known as
Underbone King
King of Moped
Price
RM8,211.70 OTR cash 1st party all rider
RM7,300-7500 OTR cash 1st party all rider
I have compiled and make a comparison between these two lovable bikes that might gets into your garage soon. Some prefer the Belang and some prefer the 5-speed of 135LC. In my opinion, both of these bikes are great in their own way. There are many reasons a rider choose a specific bike, maybe it is because brand loyalty, fuel efficiency, styling, price and others. So, it is really up to you to choose which one you really like. Make your own research and get the best bike that you always wanted for. motomalaya.net
The reason why I did this comparison is because both of the bikes have nearly same specs with nearly same price.
DiASil Cylinder
Features of the technology
The DiASil Cylinder is an all-aluminum cylinder made possible by an exclusive Yamaha aluminum forging technology. Because it uses a 20% silicon aluminum alloy, it is possible to create a cylinder wall that is so hard and durable that it eliminates the need for a conventional steel cylinder sleeve. And, because the cylinder is all aluminum, it has excellent heat dissipation qualities and reduces engine weight at the same time. (Aluminum dissipates heat at 3.1 times the rate of steel.) The T135 is the first ASEAN market model and only the second Yamaha model of all to adopt this advanced technology, following the Japanese market model "Grand Majesty 250."
PAIR System
Reduces exhaust emission
DOHC vs SOHC
DOHC can provides better power but there is a lot more mechanical loss compare to SOHC since there is much more parts and weight to be moved by the crankshaft. The fewer parts of SOHC also provides lower maintainance cost.
Written by me with reference from:
1. http://malaysianbikers.com.my/forum/index.php?topic=59043.385;wap2
2. https://www.bikesrepublic.com/2011/03/28/2011-yamaha-135lc-extreme-spirit-5-speed-brochure-in-high-resolution-1600px/2011-135lc-5-speed-brochure-4/
3. http://www.yamaha-motor.co.jp/global/asean-touring/machine/
4. https://www.bikesrepublic.com/2010/07/01/2010-suzuki-belang-r150-technical-specifications/