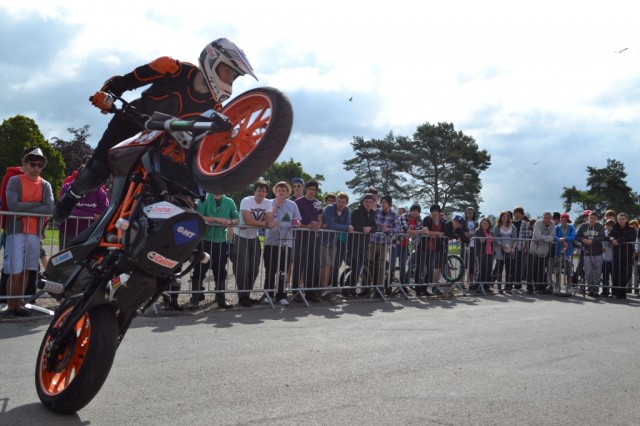 Radenci (Slovenia) 31.08.2011
Rok'n roll in the UK
Spending the most of his free time in his van during this year, travelling from one show to another allover the Europe, Rok Bagoros is really starting to enjoy  living his dream, as a professional stunt rider. He recently hit the shores  of England for the first time, with clear purpose to entertain the masses at the famous NASS music and extreme sports festival.
Using the new KTM 125 Duke street bike, Rok put on a number of high-octane performances throughout the weekend and turned out to be the real crowd pleaser.
Rok is performing  his tricks on almost standard 125 Duke. The only diference between standard bike and his stunting machine is in details as wheelie bar, pegs and controls. Check out the movie where you can relive the atmosphere of adrenaline pumping weekend.
Stay tuned for new upcoming video reports from all over Europe.
Check out the video and more pictures after the jump  
Camera & Editing: Dominik Pelc
On the winning ways
Pro stunt rider Rok Bagoros scored supreme victory at the international stunt riding event in Hungary. The event itself has a long tradition and is one of the most important in Europe, even if doesn't count for any official championship.
Since last year, when Rok was among rookies and took penultimate position in rankings, he improved dramatically. In just one year he climbed form the bottom, to the very top in his class.  Rok and his KTM 125 Duke put on a fantastic show which was a result of a hard training program. Rok was training last days before the event without any mercy to his body and KTM stunt machine, but the final result paid for everything when he stepped on the top of the podium.
His comment after the event was full of positivism: 'This victory mean a lot to me, since the competition was very hard and already a small mistake would cost me valuable points. To win among the juniors who ride on such high level I had to show all my skills in 4 minute show, where I put numerous tricks, combined with flawless performance and connected them with my recognizable and unique riding style'.
Next opportunity to show the stunting world his mixture of elegance and aggressive riding style will be in France on the Stunt Bike show 2011 in September , where Rok will try to win the 125 cc class with his loyal KTM Duke. After a superb win at the last year event in scooter class, the goal is now to prove his talent also on the motorbike.
FOTO: Gémesi Balázs