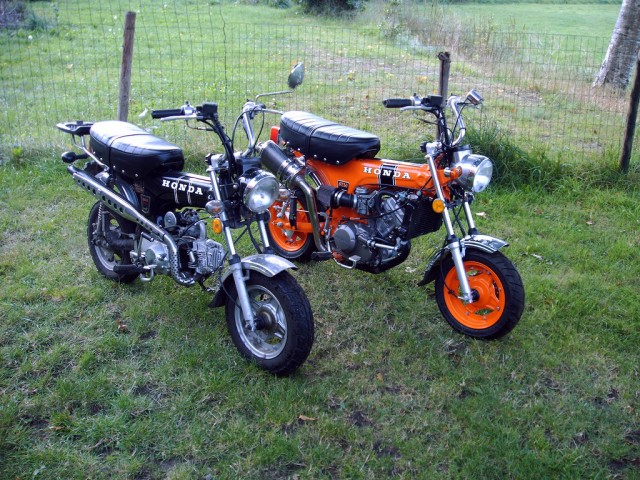 This Honda Dax is one of the rare bikes that is not easy to find on the road everyday. You need to look hard and you'll be rewarded. This time, my friend, Charles from USA, has send me the link of this mini monster with CBR150R engine fitted.  I'm seeing one of the cleanest execution made for this Dax to install a new heart for it. It looks like it mean to be there.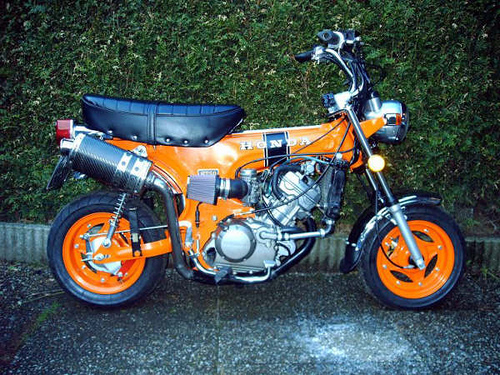 Big air filter fills up the side view of the bike. The size of the engine is exaggerated with the stock small sized wheel. Considering the CBR150R comes with DOHC setup, it just make the technical aspect of the bike become better. It is also liqud-cooled, so you can travel longer distance with less trouble of overheating.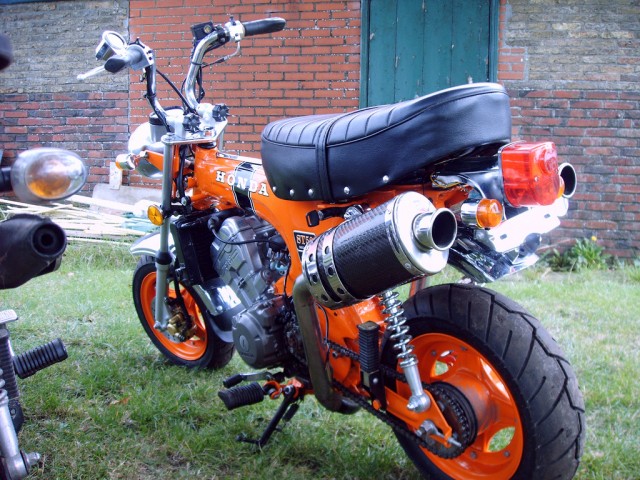 The rear end features double-exhaust flaming out from the side with big muffler in carbon fiber. The wheels are coloured in bright orange so you won't missed the view of this bike if it come near you. This monkey bike is no monkey business at all.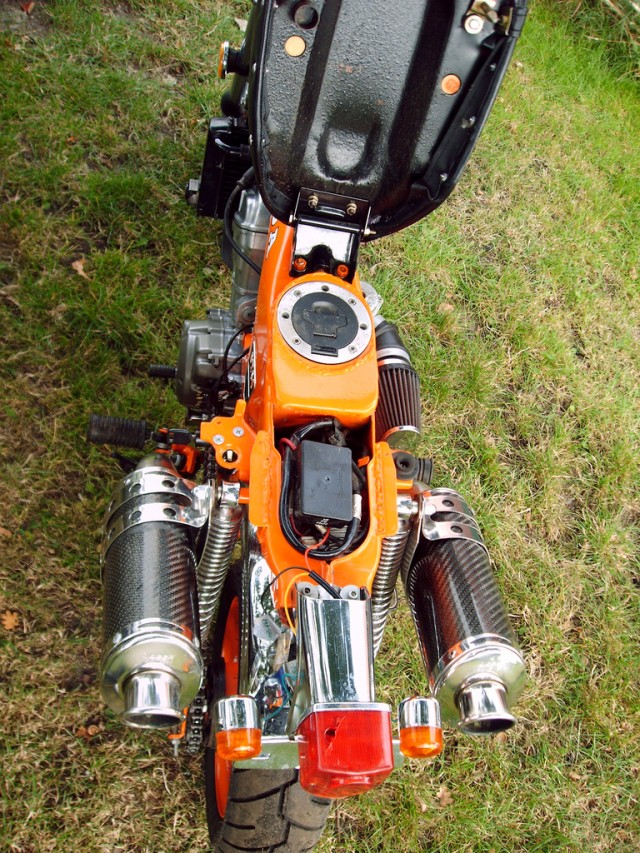 The stock tank can fill up 2.3 liters of fuel but Andre has modded it so that now it is able to fit in 10 liters of petrol! Big tanks mean longer riding distance with lower fuel station stops. Nice idea for touring!
And here is the word by the owner itself (andrekoopmans):
Double Overhead camshaft engine, 150 cc, liquid cooled, 4 valves, 28 Keihin CV carburator with K&N filter, double open carbon fiber exhausts. 22 Horsepower at 11000 RPM. only 78 kg (!) Topspeed 140 Km/h. The only one in the world ! The engine came from a Honda CBR 150 R. The under-side of the dax-frame is completely build by myself. The biggest part of the whole frame is petrol-tank now, so instead of the original 2,3 litres I can tank almost 10 litres of petrol now ! Exhaust systeme is also homemade, the parts of it came from a crashed Ducati racer. The rear-fork is made much stronger to stay in one pease with the increased power. Standard engine was a 6 horsepower 110 cc SOHC-engine. Every orange part is powdercoated, the tires are Michelin semi-slicks. It was a nice job and it is a delight to ride this little beast, because of the double open race-exhaust together with the 28 Keihin and shouting K&N, it sounds like a superbike at full battle ! But it is also possible make a nice and pleasant tour.
The picture is All Rights Reserved to andrekoopmans. Thanks for the permission to use picture on this blog!
Check out his Flicker page here: http://www.flickr.com/photos/9623863@N04/